Easy to Use Mobile App
ComplianceBox features an expertly designed Mobile App that is incredibly easy to use. Simply put, once drivers start using ComplianceBox, they don't want to go back to the old way.
ComplianceBox isn't just an electronic version of the old paper forms. Instead, we provide the drivers with the tools to conduct effective inspections, submit required paperwork, and other National Safety Code related tasks in an intuitive way. We know how frustrating it is when an app is difficult to use, that's why ComplianceBox has leveraged a team of experts to craft an experience that almost anyone can pick up and use. Using ComplianceBox to automate the paperwork flow reduces errors and allows carriers to achieve outstanding results in Assessments of Regulatory Compliance Audits and New Carrier Compliance Reviews.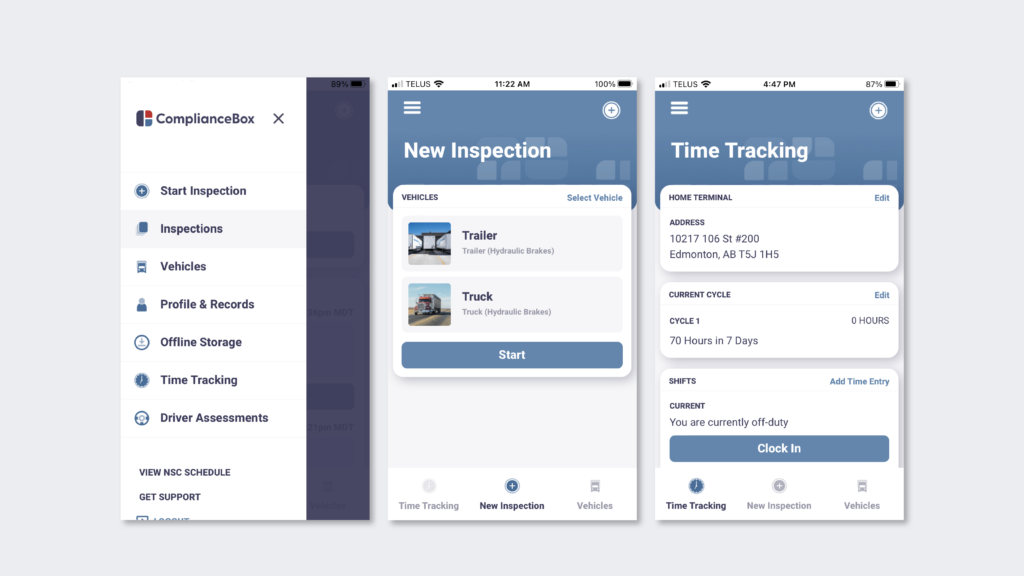 Powerful Web Dashboard
The ComplianceBox Dashboard is the perfect complement to the mobile app. In an easy-to-use program, you can quickly see the status of all your drivers, vehicles, defects, scheduled maintenance inspections, lubrications, and any other applicable records.
Our notification system will alert Administrators to items that require their attention so they can stay focused.
Created by a National Safety Code Auditor the ComplianceBox dashboard ensures that every required record is stored in an audit-friendly way.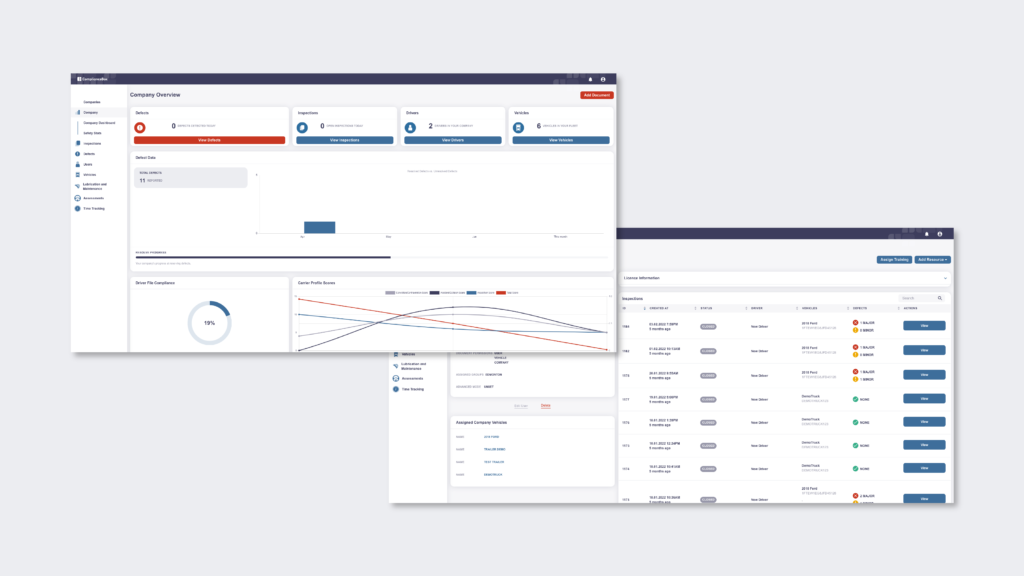 Daily Vehicle Inspection Reports
ComplianceBox has taken a completely new and fresh approach to Daily Vehicle Inspection Reports (DVIR)'s. Fully compliant inspection reports are produced using as little driver input as possible. First, when a driver uses the mobile app to complete a DVIR, they are prompted if there are any previously reported defects that haven't been recorded as resolved yet! Next, drivers are guided through all the items they are legally required to inspect and all the potential defects from National Safety Code Standard 13 and the Commercial Vehicle Safety Alliance (road-side enforcement/DOT) Out of Service Criteria.
There's more to DVIR's than just the inspection document! As soon as a driver identifies a defect on their inspection report, ComplianceBox starts taking additional action:
Drivers are immediately informed if the defect affects the safe operation of the vehicle and repair is required before it can be operated.
A Work Ticket is created in ComplianceBox and the company administrators receive an instant e-mail alert.
ComplianceBox tracks comments and photos attached to the defect from any driver or company administrator.
An audit-compliant repair record is completed when the defect is marked as repaired by any company official.
Defects don't just happen before a vehicle is used for the day. Drivers have a legal requirement to continuously monitor their vehicle(s) for defects throughout their shift. Found a flat tire at 2PM even though you did the pre-trip at 6AM? No problem. Defects can easily be added to inspections.
If a driver is pulled over for a roadside compliance inspection, they can legally show the enforcement officer their ComplianceBox app as a record of inspection. Additionally, the inspection can be quickly and easily emailed to anyone (including roadside enforcement). Not only does the inspection report contain all the legally required information, but additional information about reported defects is also displayed (when the defect was first reported, the risk rating, current repair status, and when/if the defect was repaired).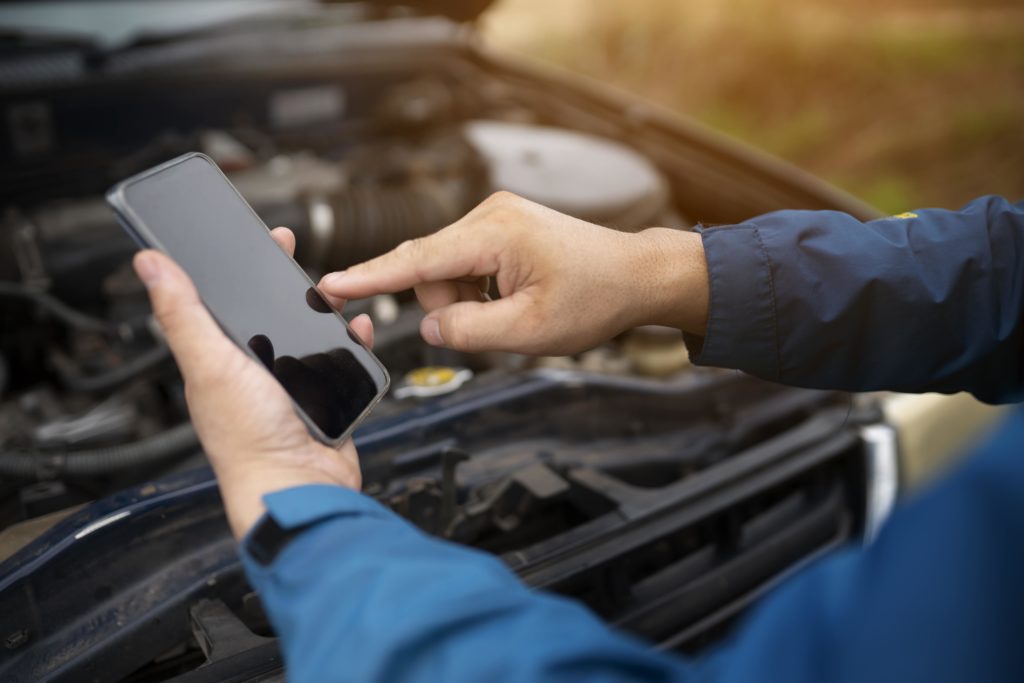 Carrier, Vehicle, and Driver Records
Staying on top of what documents a carrier is legally required to have on file can be an overwhelming responsibility. That's why ComplianceBox automatically starts looking for the required records when a driver or vehicle is added. We're even smart about expiration dates. Items like driver abstracts must be obtained no more than every 365 days. ComplianceBox will ask you when the abstract was pulled so that you're alerted before you're in non-compliance!
Drivers can also be enabled to update their own documents. Now if a driver gets a new drivers licence, they can add it from the mobile app and it's immediately filed. It didn't have to pass through a handful of people and have someone file it. Administrators will receive a notification if a record is created or modified and a full audit trail is kept on every document. So if the driver accidentally uploaded the wrong document or entered incorrect information it can be quickly and easily corrected.
Carrier Records
ComplianceBox manages a digital version of your Safety Fitness Certificate (CVOR), insurance, and any Carrier Profile data. The dashboard provides a quick overview of key company information, items that require your attention, and the trending performance history from your uploaded carrier profiles.
Driver Records
ComplianceBox houses all the records a company is legally required to keep for their drivers.
Licence Information
Different licences (especially those from other provinces/territories) have different conditions and restrictions. ComplianceBox reports on the types of vehicles the driver is permitted to operate.
Inspections
Easily report on all the DVIR's a driver has completed. It doesn't matter what vehicle(s) they performed the inspection on.
Assessments
Any driver evaluation/assessments that have been completed on the driver.
Documents
All applicable application Forms (or Resumes), abstracts, and applicable training certificates
Collisions
A breakdown of all the collisions that the carrier is aware of.
Convictions
All convictions that relate directly to a drivers licence.
Notes
Easily add notes to driver files including tracking reward and discipline measures taken.
Vehicle Records
ComplianceBox enables an electronic vehicle file that automates the filing process.
Defects
Any defect that's been reported on that vehicle is displayed in a single location. If a defect has been resolved then it's automatically tied to a compliant repair record.
DVIR's
Gone is the struggle of having to separate or search through a DVIR into individual vehicle records. The second an inspection is performed on a vehicle that inspection report is instantly filed in the appropriate vehicle file(s).
Lubrications and Scheduled Maintenance Inspections
All recorded lubrication's and Scheduled Maintenance Inspections are tracked with a compliant record and report if they were completed within the defined schedule.
Vehicle Documents
Easily keep track of all legally required documents (registration, insurance, CVIP/PMVI's, recalls, enforcement inspections, and any other repair/lubrication/scheduled maintenance inspections).
Preventative Maintenance Program
A compliant maintenance program is a crucial step in being successful when going through a Compliance Audit. That's why ComplianceBox allows every vehicle to be tagged with a unique schedule for their required lubrications and maintenance inspections. Drivers, if enabled by their administrator, can even use the ComplianceBox mobile app to complete these required items.
Custom Scheduled Maintenance Inspections
Every company uses commercial vehicles in a different way. That's why ComplianceBox allows you to easily create a template for the items that need to be inspected in a Scheduled Inspection. (Don't worry, we've also created some templates that already have all the legally required items).
Driver Assessments
When performing a driver evaluation, company administrators can use the ComplianceBox mobile app to record the results. Like maintenance inspections, you have the ability to create your own assessment template or start with one that we've curated. Once done the administrator can review the results with the driver on their mobile device and a record is instantly stored in the driver file.
Time Tracking
ComplianceBox is NOT an Electronic Logging Device, however we do have a compliant time tracking report for drivers operating with 160 kilometers of their home terminal. Drivers can easily use the mobile app to clock-in and clock-out of work and ensure a compliant record is generated.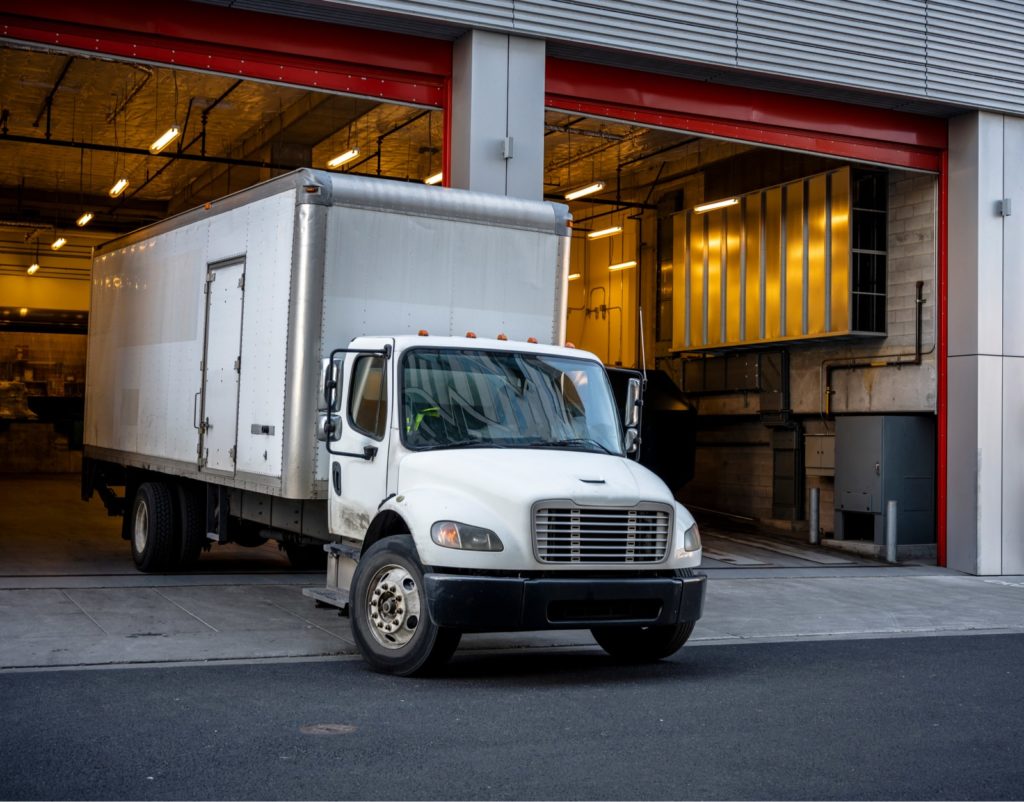 Start your free trial today!
Get started with ComplianceBox with a free 31 day trial. Fill out your information below and we will get you going.